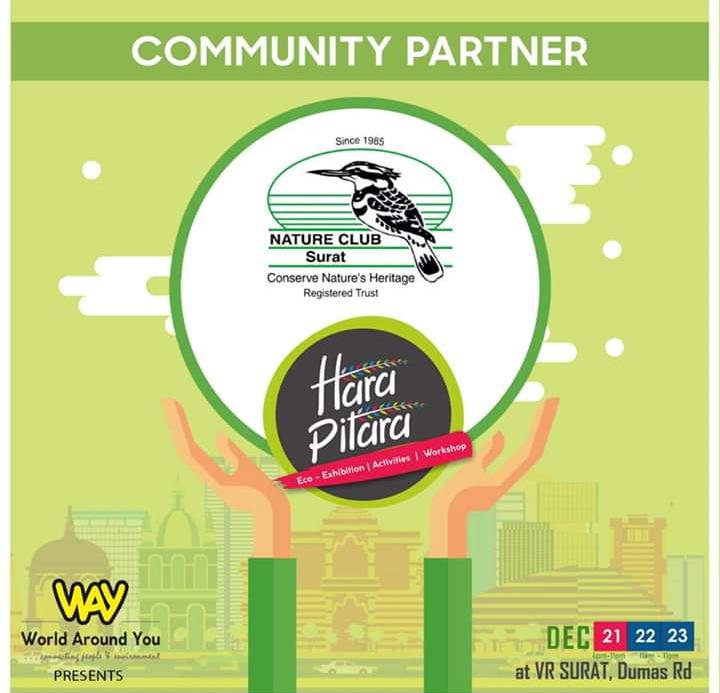 E-Invite
*Nature Club Surat* invites you to Surat's 1st #EcoFlea market – *HARA PITARA Season 3* (Xmas Edition) SURAT's 1st that brings to you 30+ Handpicked Eco-Brands from more than 10 cities across India. Most of them exhibiting in Surat for the 1st time !!
*Dates*: 21-22-23 Dec (Fri-Sat-Sun)
*Venue*: VR Surat, Magdalla Plaza
Check out amazing Eco-products by: *Summer Oasis*, Roots, *Arya Sanskriti*, Surat Forest Products, Rweaves by Saath, *Plant Veda*, Okhai, Re:Fresh, *Mithila Naturals*, Gujarat State Forest Development Corporation, PenPals, *NCrafted*, Just Pure, *The Ecosattva Store*, *Handloom Denim*, Ekam Eco, Tunwal Electric Vehicles, *Paaduk*, Serene Design, Apple Reusable Books, Anu's Creation, and more…
Also engage in ECO ACTIVITIES:
PenPals *Jewellery Making*, *Bamboo Craft*, *Eco-Friendly Paper Craft*, *Snake Show*, *Talks* on Green, Healthy & Sustainable Lifestyle, *Pet Talk* by Gujarat's 1st Certified Female Dog Trainer & Behaviourist – Nidhi Sanghrajka Mehta, *Tribal Dance*, One Minute Eco-Challenges and more…
SHOP & FUN TILL YOU Be GREEN, HEALTHY & SUSTAINABLE…
For more details: http://bit.ly/2SSVenW
See you on greener side!
Harapitara @ V R Mall, Surat .
Volunteers Chirag Tamakuwala, Gaurang Vakil, Mayur Variya, Akhil.