Deer & Antelope Breeding Project
Aim: Breeding Reintroduction & Conservation of Deer & Antelope in forest of Dang & Vansda National Park. This project helps to restore Food chain & decrease the "Human – Leopard conflicts"
Adopt a Deer: This scheme allow citizens to adopt deer by paying annual food and maintenance expenditure of particular Deer.
Scheme also allow to put adopter name on the adopted dear enclosure, this also give the message to other visitors to adopt, and participate in conservation of wild life for noble cause.
By adopting a deer you become a "Conservation Ambassador" and will receive a certificate of appreciation from Nature Club.
Adoption Charges (per year) : 1000 per deer
Adoption Charges(Lifetime): 10000 per deer
Note: This scheme will not permit adopter to take any animals at Home.
Call : +91 9825057678
Dang forests, which were home to many wild animals including herbivores and carnivores a couple of decades ago, are now devoid of most of its faunal as well as floral diversity. The neglect has led to severe depletion of the biodiversity in these forests, resulting in loss of most of its flora and fauna.
Dang forests, which were home to many wild animals including herbivores and carnivores a couple of decades ago, are now devoid of most of its faunal as well as floral diversity. The neglect has led to severe depletion of the biodiversity in these forests, resulting in loss of most of its flora and fauna.
Decades of close interactions of Nature Club Surat (NCS) with the Dang Forests brought in the realization that depletion of ungulates and other animals, which were the 'prey base' of the large carnivores, forced the leopards, the highest order predator in the region, to attack livestock and at times even human beings, increasing the human-animal conflicts at an alarming rate in the region.
With the aim of conservation, breeding and reintroduction of pre-existing ungulate species in the Vansda National Park, thus increasing the prey base and restoring the food chain in the Dang, NCS initiated the Deer Breeding Project in 2007 on around 2 acres of private land in Vansda National Park, the natural habitat of Deer. This project was initiated in close consultation and coordination with the Forest Department and Shri Digivrendrasinh, the Maharaja of Vansda and was aided by wildlife expert Dr.Raju Vyas and team of volunteers of NCS. NCS is probably the only NGO in the country to be running such a unique project on its own.
Spotted Deer (Axis axis) were shifted to the center from Ahmedabad and Surat Zoo and breeding started in 2010. The 2 acre Deer Breeding Centre segregated into 3 enclosures, for providing ample space to the Deer to move around and 3 isolation enclosures, for keeping the Deer separately, if ill and needing medical care, is equipped with water facilities and solar lighting. The centre is managed by round-the-clock full time caretakers to the care of the Deer and maintain the breeding centre under C.C. Camera surveillance.
The Deer are provided all necessary facilities and are fed locally growing vegetation to acclimatize them to the forest environment and aid their release in the Forests. The centre is regularly visited by Veterinary doctors and other experts for keeping a track of Deer's health and other issues and human interaction is kept to minimum. A facility has also been made for carrying out medical treatment if required. A required. A facility for post mortem has also been created therefore, in case of death of the Deer, carrying out a post mortem gives insights into the reasons of its death and helps in taking and helps in taking measures for avoiding such circumstances in future.
It was also necessary to create awareness amongst the locals/tribes, so as to keep safe the animals when it is released in wild. Therefore, NCS also planned with the local tribal populations to create awareness about he reasons for rising human-animal conflicts and capacitate them as guardians of the area, thus heling in increasing the biodiversity of the forests and reducing human-animal conflicts.
After couple of years of successful breeding of Deer in the centre, the  number grew to 22, so NCS along with the forest department, undertook the first soft release of 6 male and 4 female Deer out of 22 into the surrounding enclosure of about 4 acres (made by forest department on forest land) on 03rd December 2016. In order to acclimatize the Deer to the wild surroundings, they were left on their own to feed on wild vegetation and become self-sufficient and were only provided water in water hole periodically. The idea was to let the Deer adapt to the wild surrounding, at the same time providing them protection from predators through the fencing. Once the Deer adapted to their new wild surroundings, the first release of 10 Deer in the dang forest was carried out on 25th March 2017. Thus, the project concluded  its first cycle of reintroduction of Deer into the wild. This is probably the first time in the Indian history of wildlife conservation bred in captivity, have been released in the wild I an effort to restore the food chain in the forests by an NGO. This is a small step towards efforts to bridge the food chain gap and the activity will be repeated periodically, assisting in increasing the prey base in the Dang forest.
Since Deer is protected animal its captivity and every movement has to be sanctioned by forest department and therefore entire project could not have been successful without the support of entire forest department upto the post of P.C.C.F since inception. All past DFOs and especially present DFO Mr. Mittal shown keen interest to make this project success.
2021 updates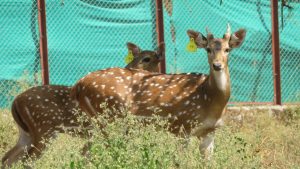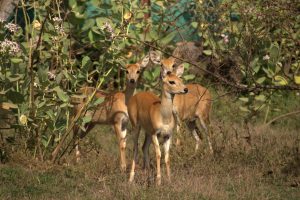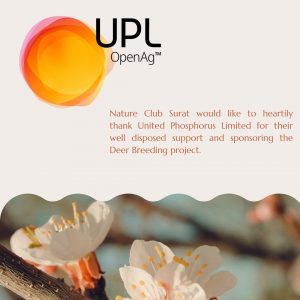 Deer Breeding Project
To increase population of herbivorous animals in the forest and restore food-chain to mitigate human-animal conflict, Nature Club Surat jointly with Forest Department is running Deer Breeding Project at Vansda National Park backed by UPL CSR Trust SRSAT.   
As project is going in full swing, 7 more spotted deer were soft released from its Deer breeding Center in the presence of Hon. Minister for Forest and Tribal development Shree Ganpatsingh  Vasava today. The honourable minister was very happy to note the success of project as so far 32 animals are wild released and 7 are soft released, totalling 39 release. These includes 3 four horned antelope also. He congratulated all stake holders and added that this joint project of Forest department and NGO like Nature Club Surat  is playing very important role of balancing the ecology of forest of  Vansda National Park. Maharaja of Vansda Hon. Jaidigvirendrasingh Solanki also remained present and appreciated the work done. The project is named after maharaja of Vansda Shri Digvirendrasingh Solakni. Member of Parilament Dr. K.C Patel, CCF Valsad Shree Muniswaran Raja, DFO Ahwa Shree Nileshbhai Pandaya , DFO Ahwa Shree Agneshwar Vyash and all office bearers and volunteers of Nature Club Surat  remained present.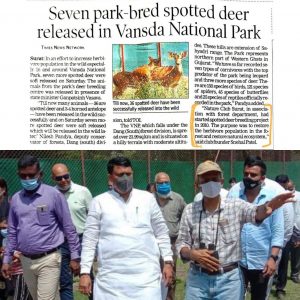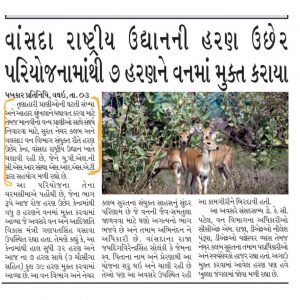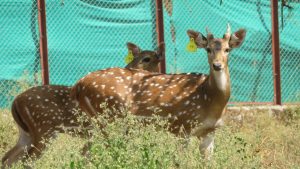 Tab #2