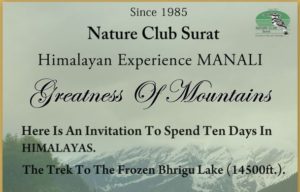 This Camp conducted annually in Kulu district, some distance from Manali, this camp combines Nature education with adventure of trekking. This 15 day camp provides the participant opportunity to be familiar with Himalayan ecology.
"To see the greatness of a mountain, one must keep one's distance, to understand its form, one must move around it, its moods, one must see at dawn and at dusk, at noon and at midnight, in sun and in the rain and in all other seasons.
A series of Nature Education Camps are organized under the 'Back To Nature Movement' started by Shri Lavkumar Khacher which provide unique experiences of living close to nature in different outdoors. Here is an invitation to spend 10 days in the Himalayas.
The camp introduces you to your parents : the Earth, the Wind, the Sky, the Sun and other life form sharing space with you. Highly trained and disciplined instructors and friendly local guides will encourage you to test your strength against raging torrents, steep climbs, cold rocks and inviting snows. Learn Rock climbing, River crossing and other adventures activities on the snow clad slopes, breathing fresh and crispy air in the gorgeous forests of Cedars, Spruce, Oak, Brich and Pine.A dedicated conservation program such as this blends the education and conservation in an unforgettable experience that will form a deep impression on your mind.
Summers are not to be at home feeling lazy and dizzy. Just get into yours rugged jeans, pack a small backpack and join us to explore the Himalayas in the glorious seasons. The programme includes treks to Panduropa. Jogini waterfall, Hidemba temple. The climbs include trek to the sacred frozen Bhrigu Lake (14,000 ft) overlooking the Bhrigu Peak (14,500ft) and Gulaba Peak (12,000 ft)
Kindly Note : 
While all possible care will be taken to provide good facility at the camp site to promote the real cause of the camping activity, the responsibility for discipline and safety lays entirely with the participants.

Organizers and instructors will not be responsible for any incident that may occur during the camp or to and fro journey. 
Thing To Carry :
Wide brimmed hat/cap/scarf

Dark sunglasses,

Hunter shoes,

Woolen/cotton shirts, T-shirts,

Socks,

Trousers/jeans,

Gloves,

Heavy pullovers/sweater/jacket,

Towel, toilet accessories,

Swim wear shirts & tops, shorts,

Raincoat,

Ground spread, sleeping bag,

Special personal medicine if required,

Plate, mug, spoon,

Torch and water bottle.
Usage of disposable plate, mug or glasses is strictly prohibited.
Note :
Hunter shoes should be large enough so that you can wriggle your socks on. Tight footwear gives blisters.

Do not bring any valuable to the camp. Binoculars and cameras to be brought at owners risk.

Electric/ electronic entertainment gadgets are not allowed.

Medical facility in the form of first-aid will be available and best care of the participants will be taken.

Lady volunteers will be there to accompany and take care of female participants.



Period: May-June
Camp Dates

:

10th – 21st May 2018

22nd – 2nd June 2018

Fees

(Before 11th January)

:

Members 15,500




Non-Members 16,500

Fees

(After 11th January)

:

Members 16,500




Non-Members 17,500

Age limit

:

10 years and Above
Day to day schedule
Camp Dates

:

10

th – 2

1

st May 2018

10 May

:

Surat to Chandigarh/Ambala by Paschim Exp.

11 May

:

Reach Chandigarh/Ambala at 4 pm, Fresh up at Hotel, Dinner and Start journey for Manali by Bus

12-13 May Base Camp

:

Reach at Manali camp site, Trek to Jogini Water Fall, Adventure activity, Market visit, Vashisht temple

14-15 May Solang Valley

:

Trek to Solang valley, Trek to Mahadev temple, Trek of nearby village, river crossing

16-18 May Top Camp

:

Trek to Gulaba for acclimatization, Trek to Frozen Brighu Lake (14000 ft)

19 May Base Camp

:

Market Visit, Evening- Start for Chandigarh by Bus

20 May

:

Reach at Chandigarh, Fresh up in hotel, Breakfast and return for Surat by Paschim Exp.

21 May

:

Reach at Surat, Around 11 AM

 
* Schedule will be changed, it depends on weather condition.