Nature Club Surat & BCSG had organized two days program on "Inculcating scientific approach to birdwatching." Program held at Kevadi Eco tourism site (Surat district) on 24th & 25th February 2018.
Faculty Mr. Udaybhai Vohra & Mr. Pranav Trivedi
Participants have also gained guidance from BCSG senior member  Dr. Raju Vyas.
Schedule:  Feb 24th & 25th (Sat, Sun) 2018.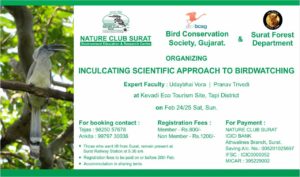 Schedule:
24 Feb Saturday
7:30 am reporting at Kevadi Eco Tourism Site. ( approx 20 km from Mandvi.80km from Surat)
8:00 am breakfast
9:00 am to  11:00 am Birding
11:30 am to 1:30 pm 1st session
1:30 pm -2: 30 pm Lunch
2:30 pm to 3:30 pm 2nd session
4:00 pm to  7:00 pm Bird watching
8:00 pm – Dinner
25th Feb Sunday
6:30 am Breakfast
7:00 am to 11am Bird Watching
11:00 am to  12:00 noon Discussion
12:30 pm Lunch
2:00 pm Valedictory.
Total 55 Participants have taken part. & with Scientific Approach given by Mr. Vora & Mr. Trivedi, prepare Census from two days Trail.
Few Conclusion of Analysis:
Total Birds Found: 500+
Total Spices Found: 70+